Psilocybe cyanescens: Wavy Cap Identification, Look Alikes & Experience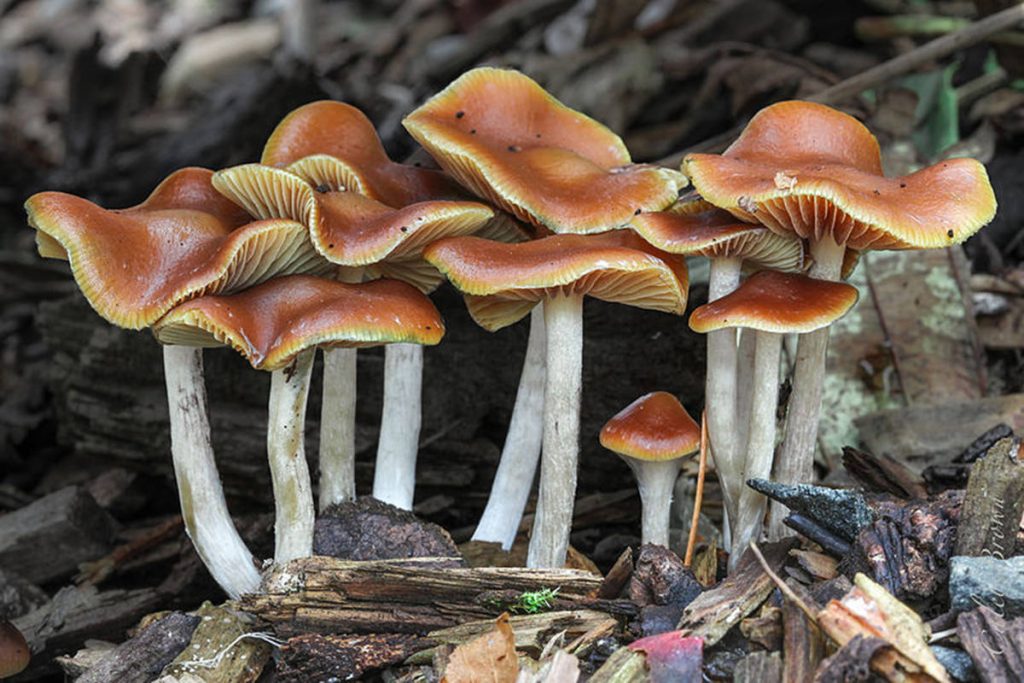 The wavy-cap's scientific name, Psilocybe cyanescens, is a potential source of confusion.  Although every two-part scientific name is unique, the second part, the species epithet, can apply to multiple unrelated species. It's a bit like a first name that way; while relatively few people share the same full name—say, John Rawlings—some first names belong to lots of people. There are lots of people named John who have nothing to do with each other. "Cyanescens" means "becoming blue," and it is the species epithet for both the wavy-cap, Psilocybe cyanescens, and The Blue Meanie, Panaeolus cyanescens. Both do become blue if bruised. Both are also psychoactive, but they are very different species.
But it gets worse.
"Blue meanie" is not just the common name of Panaeolus cyanescens, it's also the name of a certain cultivated variety of Psilocybe cubensis, grown and sold for its psychoactive properties.
So, Blue Meanie (Panaeolus cyanescens), Wavy-Cap (Psilocybe cyanescens), and Psilocybe cubensis "Blue Meanie" are all distinctly different species, and while all do contain psilocybin, their potency varies dramatically so dosing is different.
Identification and Description
Cap: Small to medium-sized, becoming almost flat with age except for the usually wavy margins. Brown when young, becoming yellowish or buff with age. Bruises blue. Thin. Smooth, sticky when wet, older specimens are brittle.
Gills: Brownish when young, becoming darker with age. Edges are pale.  In very young specimens, the gills are covered by a webby sheet of tissue called a veil. This tears off as the cap expands.
Stem: Longish, thin, sometimes thicker at the base, smooth, white, bruises blue. After the veil tears, its remnants form a subtle ring zone on the stem.
Spores: Elliptical and smooth.
Spore color: Purple-gray to purple-brown.
Edibility: Psychoactive
Habitat: Eats and fruits from woody debris, leaf litter, and wood chips such as those used in landscaping. Sometimes fruits in clumps.
Range: In North America, most common in California, Oregon, Washington, and British Columbia, though sometimes present in the east as well. Common in Europe, though probably not native there.
The wavy-margined cap is a distinctive feature, as is the mushroom's ability to stain blue. If gathering for consumption, it's critical to check the spore print color, since this species shares its habitat with its aptly-named look-alike, The Deadly Galerina (Galerina marginata). The latter has reddish-brown spores, rather than purple-brown.
Look-Alikes
Wavy-cap is a "LBM," or little brown mushroom, a large group of mostly-unrelated species that are very difficult to tell apart without careful attention to the right details. The group includes most psychoactive species, a number of interesting culinary species, and a few toxic, even deadly-toxic species.
Other Psychoactives
The closest look-alikes to wavy-cap are its fellow Psilocybes. These either do not share the same habitat or lack the distinctive wavy margin that most wavy-caps develop. Most also have other, more subtle differences, especially in older specimens. Younger examples of all of these species may look very much alike, though. While these are all relatively safe psychoactive species, it is important to know which is which because potency varies—sometimes dramatically.
Psychoactive species in several other genera, such as Panaeolus, are also fairly close look-alikes, but can be differentiated with close attention to detail.
Culinary Mushrooms
Culinary mushrooms are those people eat just for the taste. Several species of honey mushroom (Like Armillaria Mellea) and Enokitake (Flammulina velutipes) are well-known edibles in the LBM group. Fortunately for those who want mushrooms that do more than taste good, these have white spore-prints.
Dangerous and Deadly Look-Alikes
The worst possible mistake would be to accidentally eat a Deadly Galerina (Galerina marginata) or one of the other LBMs that contain the same toxic. People who do usually die, though prompt medical attention does save some. There are doubtless LBMs that are toxic but not deadly as well.
Deadly Galerina does not have the characteristic waves of the wavy-cap, but it is the same color—the base of the stem is black, not blue, but it's easy for wishful thinking on the part of a psychonaut to make the black look blue. Spore color differs, but only subtly. The habitat is the same, or at least overlapping, since both eat wood. The psychoactive and the deadly can, in fact, grow right next to each other, appearing to belong to the same flush. It is vitally important to positively identify every single specimen if gathering for consumption.
Effects & Experience
Wavy-cap has the same psychoactive components as other Psilocybes—largely and most famously psilocybin. The effects of eating all these mushrooms is therefore roughly similar except that because potency varies, dosing varies dramatically.
The high usually begins somewhere between 20 and 30 minutes after consumption and lasts anywhere from six to 15 hours, though more than eight hours is unusual. These mushrooms are famous for being hallucinogenic—and they are, especially at higher doses—but altered mood and altered thought-patterns may be more important to users. Altered thought-patterns, sometimes described as "psychosis," often include valuable personal and spiritual insights. Euphoria is not uncommon—though not guaranteed.  Psilocybin is often described as an intensifier, strengthening whatever mindset the user had before the trip began, good or bad. Anxiety, sometimes intense, may be the most common serious side effect (see note under Toxicity).
Psilocybin (and the mushrooms that contain it) is sometimes used in large doses in an attempt to maximize intensity, but that's not the only possible approach. It can also be taken in such tiny doses ("microdoses") that hallucinations do not occur and the user can go about daily life normally, experiencing only a subtle change in mood and a more insightful frame of mind.
Some people use Psilocybe mushrooms essentially for entertainment, but others seek spiritual or even medical benefits. The benefits claimed for psilocybin use include alleviation of anxiety, depression, migraine headaches, and more, although so far scientific research only hints that some of these benefits may be real. None have been confirmed, yet.
psilocybe cyanescens for sale, sometimes called "wavy caps," is a potent member of the family of hallucinogenic mushrooms. Its main compounds responsible for creating psychedelic effects are psilocybin and psilocin. It may share similarities with other magic mushroom varieties but its appearance and amount of psychoactive compounds sets it apart.
Psilocybe Cyanescens Identification
The easiest way to identify Psilocybe cyanescens is by looking at its cap. Mature P. cyanescens caps have a distinct wavy appearance. This cap also changes color depending on the mushroom's levels of hydration. It's caramel to chestnut-brown when moist but fades to pale buff or slightly yellowish when dried. These wavy caps can measure from 1.5 to 5cm in diameter. This also applies to the mushroom's other body parts. psilocybe cyanescens for sale
The gills under the caps are light brown to dark purple brown in maturity, with lighter gill edges. These are connected to the whitish stem which is 3-6cm in length, and 3-6mm thick which is usually enlarged at the base.
Psilocybe cyanescens also produces purple-brown to purple-gray or purple-black spores. Both the odor and taste of P. cyanescens are starchy, comparable to ground flour.
cyanescens generally bruise bluish or blue-green wherever it's damaged and this stain remains visible after drying. This staining is most visible on the stem but also takes place on other parts of the mushroom such as the gills, and cap. This staining comes from the oxidation of psilocin.